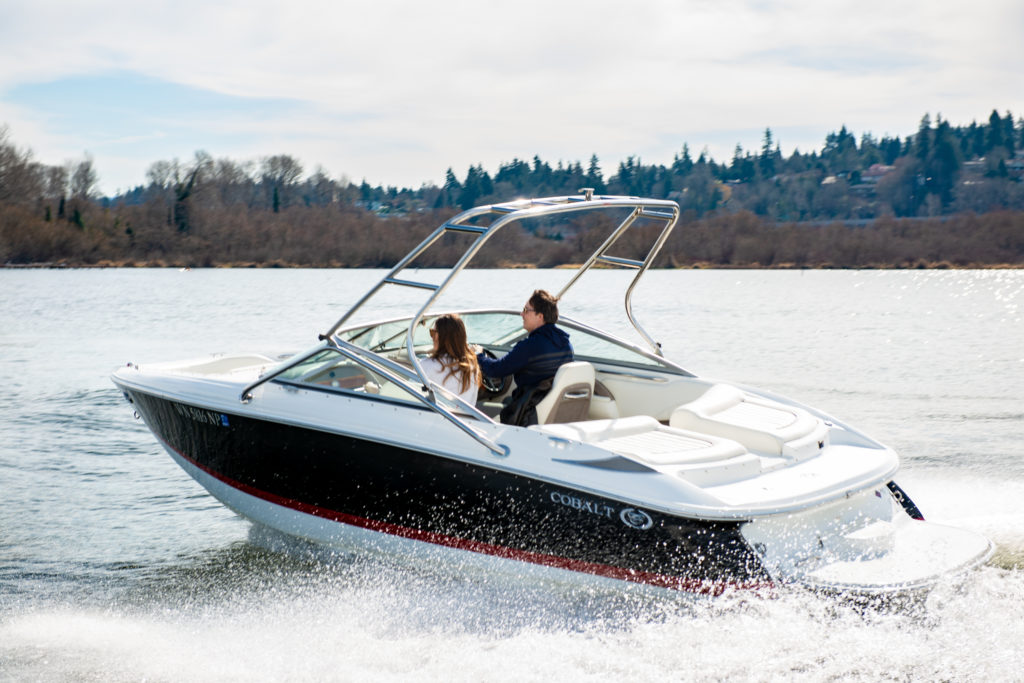 WHY RENT A BOAT?


All the fun, without the hassle.
Imagine having your own boat anytime you want it. Imagine having a professional team of mechanics to maintain and repair it. If you're 25 years of age or older, discover why boat rentals are so popular with Yarrow Bay Marina customers.
How to reserve a boat?
Call Yarrow Bay Marina at 425.822.6066 and tell us when you'd like your boat to be ready! Call for extended rental hours on Friday/Saturday.  A $150 deposit (Visa, MasterCard, American Express or cash) will hold your reservation. Warmer months book up quickly, so call today for your preferred dates/times. Your deposit is refundable with a minimum of 24 hours notice of cancellation or rescheduling. Deposits are applied toward your total rental charges.
What type of boat can I rent?
Runabouts (Cobalt, Chris Craft, Bayliner) : each ranging in size from 19 to 21 feet and seat a maximum of seven passengers.
SunChaser Pontoon Boat:  24′ seats a maximum of 12 passengers.
Where can I go?
You can take your rental boat on beautiful Lake Washington, Lake Union and Portage Bay. Ask us for suggestions of interesting places to see and restaurants to visit. We're here to help you enjoy your experience.
What about safety equipment?
All boats are fully equipped with life jackets, a life cushion, a fire extinguisher, flares, a paddle, fenders and lines. Take note of these items before you leave the Marina.
Where can I park?
Onsite parking is available. Parking fees:
$6.00 for 2-4 hours
$8.00 for 4-6 hours
$12.00 for 6-10 hours
SPRING 2023 BOAT RENTAL RATES
Rates are based on the number of hours you reserve the boat.
Boat rentals are closed during winter.
Bayliner Runabout Rental:
2-3 HOURS          $165/hour*
4-6 HOURS          $155/hour*
8 HOURS              $890 Total*
Cobalt S200 Runabout Rental:
2-3 HOURS          $180/hour*
4-6 HOURS          $170/hour*
8 HOURS              $940 Total*
Cobalt S220 Runabout Rental:
2-3 HOURS          $186/hour*
4-6 HOURS          $175/hour*
8 HOURS              $995 Total*
Chris Craft 22 Runabout Rental:
2-3 HOURS          $186/hour*
4-6 HOURS          $175/hour*
8 HOURS              $995 Total*
Pontoon Boat Rental:
2-3 HOURS          $205/hour*
4-6 HOURS          $195/hour*
8 HOURS              $1,020 Total*
Inner Tube Rental: $40
*Rates do not include fuel. Pricing where noted, except for holidays and special event days: Memorial Day, Labor Day, Fourth of July and Seafair. Call for holiday pricing.
Prices subject to change. Boat rentals close during winter months. 
Important Info
Arrive Early. Before heading out on your boating adventure, you will read and complete a rental agreement and safety checklist. In order to give yourself sufficient time to read these documents carefully, please arrive 1/2 hour prior to your reserved time. We will make every effort to accommodate late customers, however, the schedule is not flexible with regard to other customer reservations. You will be required to show a valid driver's license for identification. One-day Boating Licenses granted.

 F

uel Charges / Damage Deposit
Boats are available for rent from opening until closing. Boats will be inspected prior to release and after return to Yarrow Bay Marina. At the end of the rental period, the boat will be fueled and the price of fuel added to your bill. We do not accept personal checks. There will be a $1,500 damage deposit which can be made with a credit card.
Be Mindful of the Time
Boating is fun and it's easy to lose track of time. Please call us if you are running late to return your boat. To ensure we can accommodate our other customer reservations, unscheduled boating time will incur a $200/hour fee (before closing) and full payment is due at the end of the rental period. Boats that are returned after our rental shop closing hours will incur a $500/hour fee. We recommend putting timers on your cell phones to prevent this fee.